An ultrasonic flow meter is a type of flow meter that measures the velocity of a fluid with ultrasound to calculate volume flow.

(1.)
The three types of Ultrasonic flow meters are:
Transit-time (Transmission) - In-line (intrusive or wetted) and Clamp-on (non-intrusive)

Doppler shift

Open-channel
An ultrasonic flow meter will measure the difference of the transit-time of the ultrasonic pulses that are generated with and against the flow direction. This time difference is a measurement for the average momentum of the fluid along the path of the ultrasonic beam. The average fluid velocity and speed of sound can be calculated by using the absolute transit times.
The ultrasonic industrial transit time flow meter will deliver high accuracy flow measurement for a wide array of liquids and pipe sizes.
Sierra Ultrasonic Flow Meters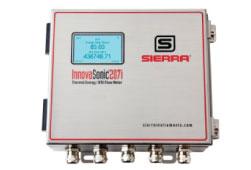 InnovaSonic 207i
Ultrasonic Digital Liquid Flow Meter
The 207i calculates thermal energy / BTU flow energy & provides you with the highest accuracy measurements possible to manage energy costs.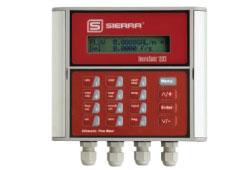 InnovaSonic 203
Ultrasonic Liquid Flow Meter
This economical ultrasonic liquid flow meter delivers a highly accurate and repeatable flow measurement for liquids at an economical price.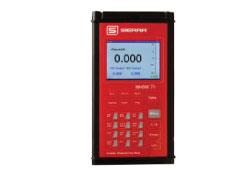 InnovaSonic 210
Portable Transit Time Ultrasonic Flowmeter
The handheld battery powered InnovaSonic 210 is ideal for precisely measuring a wide range of liquid flows in pipes up to 6000 mm.

SiteLab Ultrasonic Flow Meters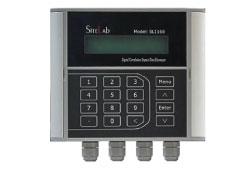 SL1168
Dedicated Transit Time Ultrasonic Flowmeter
The SL1168 is a universal transit-time flowmeter that has been designed using FPGA chip and low-voltage broadband pulse transmission.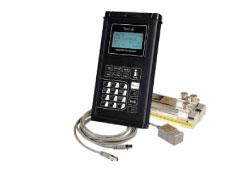 SL1168P
Portable Transit Time Ultrasonic Flowmeter
The S1168P can reliably measure liquids containing moderate amounts of suspended solids with a SD Card for data logging.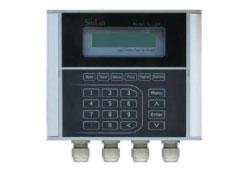 SL1188
Transit Time Ultrasonic Flow Meter
The SL1188 offers low power consumption and high reliability and can be configured via the keypad without any additional programming.

(1.) Ultrasonic flow Meter - Wikipedia https://en.wikipedia.org/wiki/Ultrasonic_flow_meter