Industrial Thermocouples
General Purpose Thermocouples - suited to most applications, most common thermocouple - type K
Hazardous Area Thermocouple
Applications: Food Industry, Oil & Gas, Hazardous Area, Petrochemical,

Thermocouples & RTD Sensors
We can supply a complete range of Thermocouple and RTD Sensors for Industrial and commercial applications.
Wire, Beaded and Mims construction 0.5 mm dia to 12.7 mm dia Heavy Wall Metallic or Ceramic Protection Sheaths Types K, J, T, R, S, B, & N. RTD Sensors include PT 100, PT 500 & PT1000 Ohm in Class A, B, & 1/10th DIN. We stock 6mm K Type and PT100 with both small and Large heads as well as loop powered programmable hockey puck and Din Rail Mounted convertors.
Thermowells
We can supply a full range of thermowells manufactured in Austraila by Temperature Controls. They have gundrilling & CNC maching capabilities to produce Screwed, Weldin and Flanged Thermowellls in Stainless Steels, Chrome Moly, Duplex Stainless Steel, Inconel, Hastelloy, Monel and Titanium.

Thermocouple Cable
Thermocouple Cable available in single and multi-pair configurations with insulations of:
PVC/PVC
TEFLON
STAINLESS STEEL OVERBRAIDED
SWA, SERVED WIRE ARMOUR
PVC/SCREEN/PVC
FIBREGLASS
REFRASIL / CERAMIC FIBRE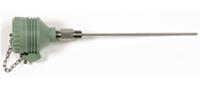 Hazardous Area Certified
When it comes to Hazardous Area applications, we specialise in Hazardous Area Thermocouple and RTD Mims Temperature sensors. IECEx approved for use in Ex d and Ex e applications. Approvals for complete assemblies and as components for use with approved Transmitter housings.