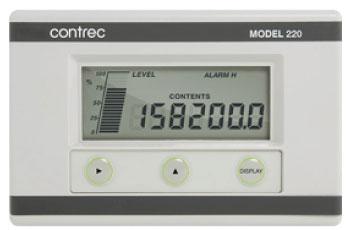 Contrec's Model 220 Loop Powered Level Monitor accepts a 4-20mA signal from a wide range of level sensors, including pressure transmitters, ultrasonic sensors or capacitance probes, and displays both level and tank contents on a large LCD display.
The 220 is a higly accurate, intrinsically safe level monitor that has been desgined to operate with digital output flowmeters. With an IP67 weatherproof housing, new tactile keyborad and various mounting options the 220 level monitor is perfect for the most arduous of installations.
The solid state relay outputs provide up to four level alarms and a 25 point non-linearity correction table that allows the instrument to be programmed to fit most tanks. This Level Monitor is powered entirely from the 4-20mA current loop requiring no external power or batteries.
This versatile instrument is fully programmable with setup parameters such as span, offset, alarm levels, etc, stored in a non-volatile memory which will retain all data for more than 10 years without power.
A wall mounting bracket is supplied as standard, while a 2″ pipe mounting bracket is available as an option. Alternatively, the Model 220 can be supplied as a panel mount instrument. The Model 220 is housed in an attractive IP67 (Nema 4X) polycarbonate enclosure which is completely watertight.