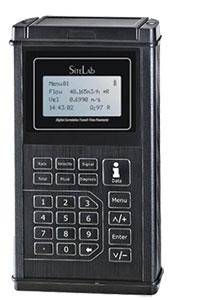 The SiteLab SL1168P Digital handheld Transit Time Flowmeter is an ultrasonic flow meter that provides a measuring system with excellent accuracy, versatility, ease of use , and dependability.
This universal meter features a pushbutton interface, ergonomic handheld design and a large digital display that significantly simplifies set-up and data collection.
Although designed primarily for cleaner liquids, the S1168P can reliably measure liquids containing moderate amounts of suspended solids.
Its high-powered ultrasonic pulse with improved digital signal processing requires just one set of transducers for a wide range of pipe sizes and materials including metal, plastic and concrete.
Portable flowmeter with tracked transducers

Handheld

Aluminium case

SD Card is equipped for data logging

Analysis sofware available