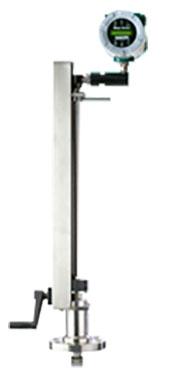 Multivariable Vortex Flowmeter
The Pro-V™ Model M23-V insertion vortex shedding flowmeters deliver a direct reading of volumetric flow rate, making it generally the most cost-effective solution for liquid flow monitoring. Great for use in applications ranging from general water flow measurement to hydrocarbon fuel flow measurement.
Vortek Instruments Pro-V multivariable flowmeters utilise three primary sensing elements
a vortex shedding velocity sensor

an RTD temperature sensor and

a solid-statepressure transducer - to measure the mass flow rate of gases, liquidand steam.
Systems that use external process measurements to calculate massflow may not provide adequate compensation for the fact thatprocess conditions can change radically between the point ofvelocity measurement and the point where upstream or downstreampressure and temperature measurements are beign made. Because the Pro-V multivariable flowmeter measures all of theseparameters in a single location, it delivers a more accurate processmeasurement. Integrating multivariable output capability with a single line penetration also simplifies system complexity and helps reduce initial equipment cost, installation cost and maintenance costs. The product line is available with a wide range of options and meterconfigurations to meet your specific application requirements.
Accuracy - Mass flow rate accuracy for gas and steam based on 50-100% of pressure range.