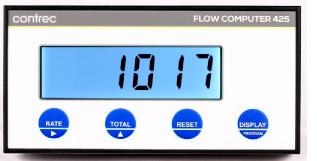 The NEW 425 Flow Computer can handle a wide range of flow applications where high accuracy and flexibility are required.
It will interface to most flowmeters and accepts most types of pulse inputs.
Either the Flow Rate or a Resettable Total can be continuously displayed in engineering units on the large six digit LCD display. A non-resettable Accumulated Total is also displayed whenever the DISPLAY key is pressed.
A scaled pulse output, suitable for driving remote totalisers, is a standard feature and the instrument also provides an 8-24 Volt dc power supply for driving transducers.
High/low flow rate alarms can be output on two form C relays.
An isolated 4-20mA output is available as an option.