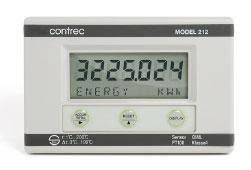 The 212 Heat Calculator by Contrec has been designed to measure the energy consumed in hot water heating systems and chilled water cooling systems. The 212 is supplied complete with temperature probes and is able to interface with a wide range of flowmeters, including positive displacement and inferential water meters, magnetic flowmeters with pulse outputs, turbine and paddle wheel flowmeters.
PROVIDING FLEXIBILITY TO MEET ALL APPLICATION
Offering multilingual capability, datalogging and peak/off-peak operation are standard. The 212 in addition has four modes of operation covering heating and cooling ensure that it is flexible enough to meet all energy measurement applications.
The high accuracy of the 212 ensures that it meets European and International approvals for heat calculators.
ACCURACY TO OIML R75 CLASS 4 AND EN1434
The 212 can be supplied with two precision 4-wire Pt100 RTDs and has inbuilt correction for the non-linearity of the RTDs. For chilled water measurement where the temperature difference (Δt) is likely to be small, provision is made in the set-up program to zero out any offset between RTDs. The 212 is fully programmable and all set-up data and totals are stored in a non-volatile memory for a minimum of 10 years.