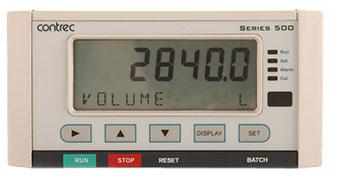 The Contrec 505 BC01 Batch Controller is a dual stage application batch controller for the reliable measurement of preset quantities using a volumetric frequency input. It can be used as a single or dual stage contoller and it is suitable for fast batch applications providing the operator with clear local readout and can be controlled via communications in more automated systems.
When access is authorised there is quick access to commonly used preset values directly from the front panel. Automatic overrun compensation caters for system delays such as valve closure for precise volumes.
The 505 BC01 instrument is compatible with a wide range of flowmeter frequency outputs, including millivolt signals, reed switches, Namur proximity switches and pulse trains via its smart front-panel program selection.